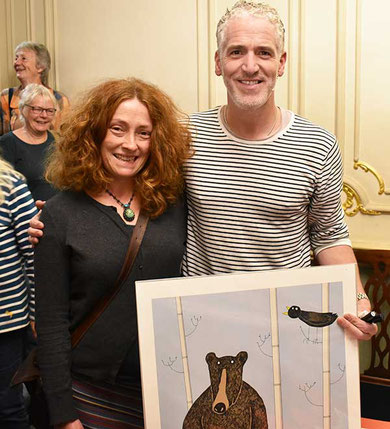 Anyone who has took an interest in my bear prints will know that these are heavily inspired by the 3 part documentary 'The Bear Family and Me' which follows wildlife cameraman Gordon Buchanan as he spends a year with a family of wild black bears in the forests of Minnesota.
Last night I had the privilege to meet Gordon when he came to Buxton Opera House to do his talk 'Animal Families and Me' about his work and particularly animal families that he has filmed. At the interval I met with Gordon and presented him with a copy of my Standing Bear and Walking Bear black bear screenprints.
Gordon was lovely and he was well chuffed with the prints and said his family would love them. It was a lovely encounter after all the years I have been printing bears since first watching his series. I came away with a great big grin and a signed print of 'Scruffy' a member of a wolf family that Gordon encountered while filming another series in the artic. Now there's an idea ...
My Selection Of Bear Prints