As the mist clears to reveal the hills of the Peak District on a chilly autumn morning, Lucy Gell starts the 30 second commute down the garden to her new printmaking art studio. It scarcely seems a few months never mind a whole year since construction began on the building that now allows her to create a clearer line between home life and work life but with the convenience of them being so close that few of us are privileged enough to experience.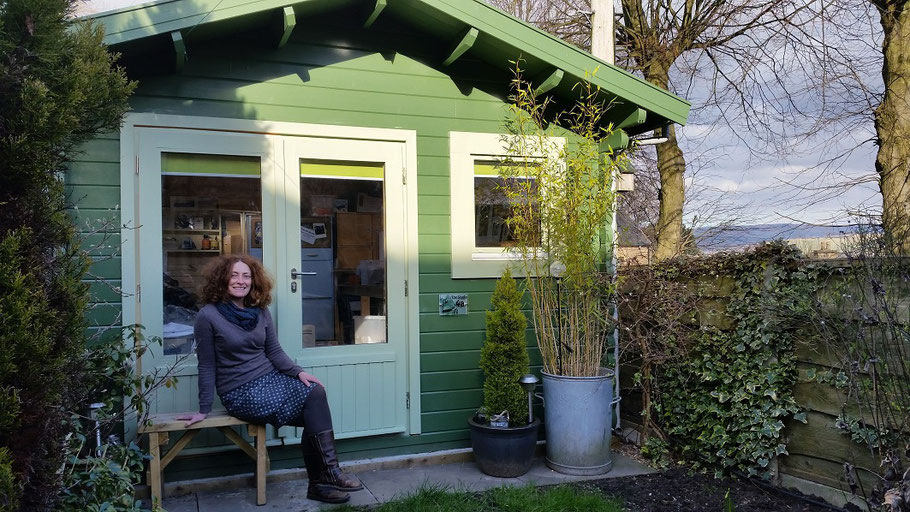 The new studio, with stunning views of Kinder Scout and the surrounding area, is the perfect backdrop to put Lucy into that creative space where she can use her love of printmaking to create her truly unique work. Lucy studied Art and Graphic Design at college and then went into a career in animation working at the award winning Cosgrove Hall films in Manchester being involved in productions such as Postman Pat, Noddy and Andy Pandy as well as the Tim Burton film Mars Attacks. During this work Lucy learned how to give lifeless puppets character through simple gestures, subtle movements and changes of facial expression.
"Lucy uses 3 powerful ingredients in all of her work – a bucketful of care, lashings of fun and a sprinkling of madness to produce truly joyful and unique works of art."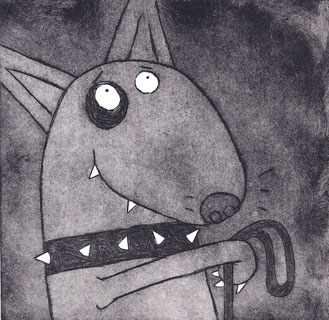 Lucy loved the work in animation but the time came where the career took a back seat for more important things – to start a family. Lucy didn't do this by halves, she jumped in with both feet and had twins, Noah and Tabatha, followed 3 years later by Willow! From this point on getting anything done around the house never mind continuing with a career became somewhat challenging. Not one to be deterred by hard work, however, this didn't stop Lucy and after taking a local printmaking course Lucy saw an opportunity where she could both look after the young children and combine her long term art background with her recently found passion for printmaking whilst working from home.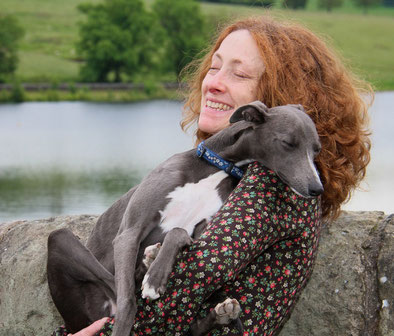 Lucy has always had a passion for all animals. She grew up with many pets and currently has 5 cats of her own. She has a blue whippet called Betsy and 3 guinea pigs. Lucy loves to be surrounded by animals and loves to explore all their unique characters in her work. Lucy has a fun personality and sees humour in all animals but is especially inspired by her own. The skills she learned in her puppet animation help her to bring this humour into her work. The results of this are a joy to see as people look at her work at exhibitions unable to suppress a smile. Lucy uses 3 powerful ingredients in all of her work – a bucketful of care, lashings of fun and a sprinkling of madness to produce truly joyful and unique works of art.
"2 adults, 7 children, 5 cats, 2 dogs, 3 guinea pigs - 1 house!"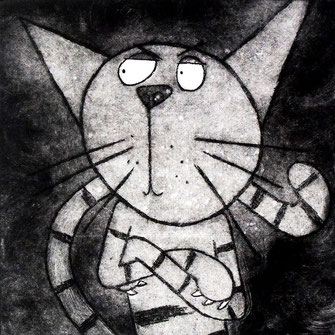 With the passing of each year, Lucy became more confident with her work and has been exhibiting at shows up and down the country for many of those years. The work has always been well received but production was slow often using the kitchen table to print and the small spare bedroom as an office and storeroom for the masses of materials involved to produce the work as well as to take on the road to exhibit. Things became even more difficult with the arrival of Lucy's new partner with 4 children of his own and Doly the dog to add to the menagerie of pets. Although 7 children under the same roof at the same time might be more the exception than the rule the number in the household increased considerably on a daily basis and drastic measures were clearly needed to make room!
Moving was not an option with current finances and the house in the Peak District was comfortable and might be big enough if work could be moved outside of the house. Extending was an option but cost was prohibitive, planning would be difficult and timescales were too long. Renting was possible but would incur cost and would lead to childcare challenges and limit working hours that were so flexible working from home and the whole point of the career change was to be at home with the children while they were still young. This left one obvious solution which was to build a studio at the bottom of the long thin garden. There would be challenges ahead but initial investigations suggested it was the most feasible.
"It was to touch and feel and the personal recommendation that sealed it"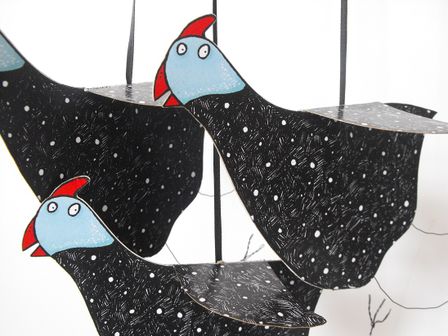 Lucy has friends with their own studios and others rent so Lucy had an idea of what she might like but how big would it be, would planning permission be needed, what would it be made of, who would build it, how would the neighbours react? Just a few of the many questions in her mind. Lucy visited shows, collected brochures and searched the web to see what was available. A friend who had built a studio pointed Lucy to Keops, a company specialising in log cabin style buildings. Lucy contacted Keops and received a comprehensive brochure. It was clear they had many years of experience with their fine-tuned service and approach. Lucy's friend invited her to view her own studio. That sealed it for Lucy – to touch and feel with a personal recommendation.
Lucy now needed a design that would fit in the space and meet her needs. Being a creative type with an eye for detail it was important to Lucy that the building would be both functional and pleasant on the eye. Keops provided just the flexibility needed. With their brochures they supplied an A1 sheet of paper that Lucy found invaluable. On one side of the sheet Keops clearly described all the options available for each type of build. On the reverse there was an 8 page letter written to Keops as if written by Lucy asking for a quote where Lucy simply needed to fill in the blanks in order to choose options such as dimensions, log type, window and door type, size and position, roof type, canopy, internal rooms and so on. Keops responded quickly with an estimate and a list of other ideas.
"2 build options, flat roof without planning permission, higher roof with velux windows with"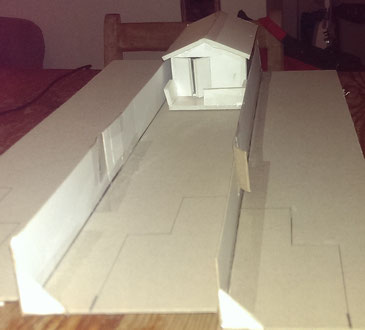 Planning permission may be required depending on what you want to build and where you want to build it. Paperwork and a couple of phone calls to Keops quickly made it evident that Lucy had 2 options – to build with a flat roof without planning permission or to build what Lucy really wanted with planning permission. This caused a dilemma as the family had expanded quickly and time was of the essence but getting planning permission would cause delays. Planning information was sort online and Keops added further advice. Current rules allow buildings without planning permission to a height of 2.5m at the eaves but up to 4m in height at the highest point if they are at least 2m from a boundary on all sides. This allowed Lucy's friend to build a very tall roof allowing internal loft space for storage which appeared extremely useful.
 Lucy unfortunately had a very narrow area to build in and therefore in order to provide enough space inside she needed to build as close to the boundary as practically possible. Keops advised that 0.4m on 3 of the sides would be as close as she should go whilst still allowing space to maintain the building although with hindsight 0.5m would have allowed just that little extra breathing space! Lucy decided to create 2 designs so that she could have a plan A which would give her a slightly higher roof with hanging space to dry prints and lots of light from velux roof windows and a plan B that would have a lower flat closed roof but would not need planning permission. Costs for both were surprisingly similar. Lucy also decided to build small scale models of both designs in order to clearly picture how each would look in their surroundings.  Planning rules also currently state that no more than half of the land around the original house must be covered by outbuildings. Fortunately for Lucy, although narrow, the garden was quite long so she had plenty of room without reaching this limit and retaining some of her garden oasis.
"Compromises, delays and sleepless nights"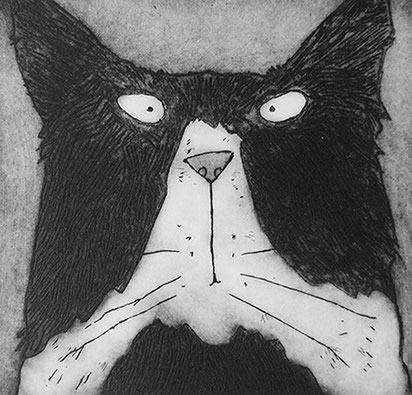 Before asking for planning permission (which makes it public) you can complete a planning enquiry form. This is a good idea if you are unsure if planning is needed and indeed to get a feel for how well an application might be received. If you are sure that you do not require planning you can apply for a 'Lawful Development Certificate' which might be useful in later years if you ever sell your property as it would avoid any ambiguity about whether or not the property fell within planning restrictions at the time it was built. If in a rush, as Lucy was, you could just start the planning application process immediately. Forms needed to be completed and Lucy paid a refundable fee to Keops to produce scale drawings to support the application although you can produce your own. Lucy also purchased online maps that are necessary as part of the process to clearly and accurately outline the boundary of her property, current buildings and proposed build area.
The planning process can be a very stressful time that Lucy was not entirely prepared for. Planning should be available within 6 weeks if you have a large area of land not closely overlooked, however, Lucy was overlooked closely by several neighbours which led to a number of small compromises in the plans and several weeks of delays and sleepless nights and a resubmission before planning was eventually passed.
A well prepared base was needed. Lucy chose to let Keops do this rather than do it herself to ensure that everything was kept under one roof thereby minimising the possibility of anything not quite going to plan. Keops arrived on-site 3 or 4 days before the 4.5m long x 3.5m wide build with a small team and had the base in position and ready within the space of a few hours so that it would have a few days to set hard ahead of the main build later that week.
"I was amazed by the planning, coordination and speed of the build"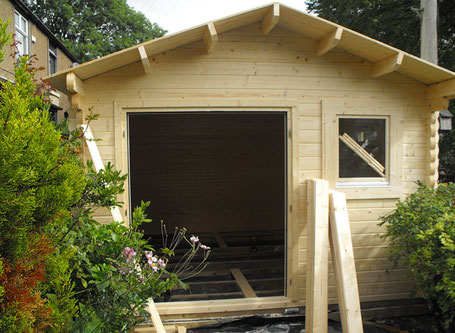 Keops scheduled two deliveries to arrive just prior to the build. A large pallet that contained the majority of the studio arrived containing all the pieces for the studio already cut to size packed into the smallest possible area. The second was the large velux windows for the roof that Lucy felt essential to her creative space. Keops called to check that everything had arrived as planned and then around 7am as promised a small team arrived to build the cabin. The building went up in a matter of hours and by the early afternoon the team were packing up ready to go home. Lucy was amazed by the planning, coordination and speed of the build.
The studio had to look good and to last for years and Lucy didn't want to repaint the studio every couple of years. She took advice from Keops then purchased copious amounts of wood preserve which needed to be applied as 2 coats externally and 1 coat internally as soon as possible followed by Butinox Futura 3 12 year wood stain which was applied as 2 coats externally over the next few weeks. Lucy had a colour in mind that would blend in with the garden and surroundings and this colour had been noted on the planning. Lucy realised, however, that she could make the studio even more appealing by using two colours rather than 1 to emphasise parts of the structure. Lucy had to apply for a 'Non Material Amendment' to change this. This involved a further fee that could have been avoided if detailed in the original planning but the planning officer suggested that it would likely be passed and in due course it was.
"The studio needed to be light and airy and warm"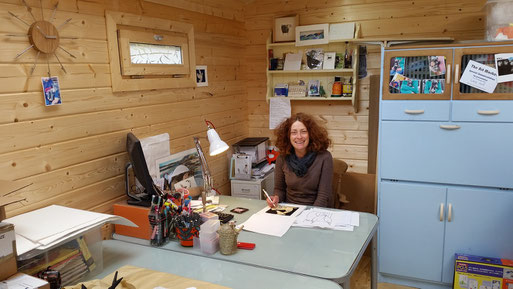 Lucy used a local electrician to run electricity to the studio and install lighting which was very important to Lucy. The studio needed to be bright and airy, helped by the large velux roof windows and glass doors but also by the internal lighting. She wanted to be able to adjust lighting for late evenings burning the midnight oil close to a show deadline and wanted electric lighting that was as close to daylight as possible. Lucy found dimmable LED track lighting which gave her just what she was looking. Lucy installed 4 x 1m tracks each containing 3 movable spotlights making it very flexible to redirect light as necessary.
Lucy had chosen the thickest log size when building the cabin to provide good basic insulation. Basic insulation was also provided in the roof and floor, however, further insulation options were available. Keops' advice was that the additional insulation might be unnecessary and not cost effective for the additional heat loss reduction it would bring compared to the minimal additional heating required. Lucy took that advice and is glad she did as the studio holds heat really well and requires minimal additional heating throughout all but the coolest months of the year. Lucy bought a simple electric thermostatic heater and a set of remote control wireless sockets so that the heater can be turned on by remote control from the house half an hour before the 30 second commute on those coldest winter mornings.
A long workbench along one side of the studio was a must for Lucy to house the printing press, produce work, package and organise it. Something at standing level rather than sitting level. This was a great blank canvas and a quick YouTube search for 'sturdy workbench' soon came up with a video of how to construct exactly what was needed herself using supplies from a local timber merchant. A couple of desks, chairs, cupboard and a shelving unit were brought in from the house avoiding further expense.
Working from the bottom of the garden Lucy was keen not to miss new frames and materials being delivered or to miss that courier to collect large work that customers have purchased over the internet so she purchased a wireless doorbell. This came as a two bell unit with a range of 250m so that one bell could be installed in the hallway in the house but then the second in the studio so that she was sure to hear it. With Wifi key to Lucy's online business WiFi in the studio was essential. Although the bottom of the garden was slightly out of reach of the house Wifi Lucy was able to reposition the router in the house to site it near a rear window with a view to the studio to send a clear but weak signal down the garden and then was able to purchase a cheap Wifi extender which simply needed to be plugged into a socket in the studio then would send a strong signal throughout the studio. Film was purchased to cover clear glass providing privacy overlooking neighbours without compromising on light and blinds were purchased to provide further privacy.
"Gone are the days of clearing work from the kitchen table to make the kids tea then pulling it all out again once they have gone to bed"
Moving her work from the house to the studio has helped Lucy become much more productive. Gone are the days of clearing work from the kitchen table to make the kids tea then pulling it all out again to work into the late hours once they have gone to bed. Work can be left exactly where it was and picked up again quickly. There is a clear dividing line between home and work and yet the two can continue to operate so closely together. The studio has helped increase Lucy's already high level of professionalism and with her new website and her new ambitions for growth in galleries as well as on-line she has already been accepted into bigger and more prestigious events such as Bovey Tracy Contemporary Craft Festival , The Great Northern Contemporary Craft Fair, and Hereford Contemporary Craft Fair this year. Lucy has plans for lots more new work in her new studio over the next 12 months and is looking for opportunities to expand into children's book illustration which has been a huge source of inspiration for her from her own childhood.

For more information about Lucy and her work visit www.lucygell.com.